The Christmas atmosphere in New York City
As New Year's Eve approaches, New York is adorned with wonderful decorations to immerse us in the spirit of Christmas. The largest tree in America, the Rockefeller Center Christmas Tree is a worldwide symbol of New York holidays. It is usually installed as early as November. This year, 2018, it was first lit on Wednesday, November 28, with live performances from 8:00 pm to 10:00 pm at Rockefeller Plaza, between West 48th and West 51st streets and the fifth and sixth avenues.
The ephemeral rinks :
From the month of October ephemeral ice rinks are born in « the streets » of New York. I will introduce you to the best known.
The rink of the Rockfeller Center, the iconic rink of New York. Open from 8:30 am to midnight. For a session lasting one and a half hours, it will cost $ 25 to $ 33 per adult and $ 15 per child. Skate rental: $ 12.50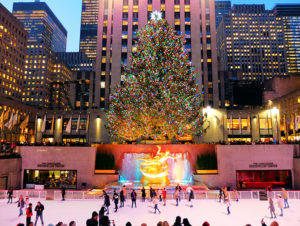 The rink of Bryant Park, located not far from Time Square. Open from 8am to 10pm. It is found in the heart of the park on 42nd Street between Fifth Avenue and 6th Avenue. It's called Citi Pond and the entrance is free. Skate rental: $ 20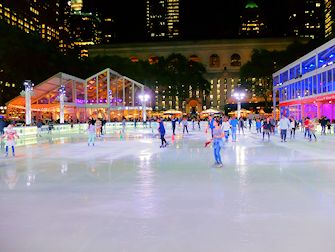 Central Park rinks, Wollman Rink, one of the world's most beautiful rinks, located on 62nd Street on Fifth Avenue (East) side of Central Park and Lasker Rink this time North side, near 107th Street. Fifth Avenue.
For the first time, which is home to skating schools and various sports, schedules are limited. The adult rate is $ 12 (senior $ 5) from Monday to Thursday and $ 19 ($ 9 Seniors) from Friday to Sunday as well as public holidays. Children under 11 years old only have a $ 6 fare. Skate rental: $ 10
For the second, admission is $ 8.50 for adults and $ 4.50 for children. The rental of skates is $ 7.50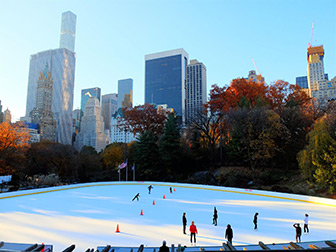 The District of Dyker Heights :
Residential neighborhood located in the southwest corner of Brooklyn where one goes to admire « the undisputed capital of the Christmas pageantry ». All the houses in the area are professionally decorated and the result is enchanting! A ballad is needed..

[/fsn_text][/fsn_column][/fsn_row]